STAY TUNED
THIS WEEK AT THE SHOP:

Hey there music-loving friends! Welcome to another weekly update from Strictly Discs. We're back to normal here, as in there are no longer stacks of David Bowie and Coheed and Cambria LPs on every flat surface in the shop, the basement no longer smells like pizza, beer and bacon, and semi-trucks are no longer regularly parallel parking on Monroe Street. Another Record Store Day has come and gone, and we can easily say it was the best one yet. We want to say thanks to all you regulars and first-timers who made it out, braved the lines and the crowds, and brought your smiling faces and can-do attitudes front and center. The enthusiasm was palpable all day long, and it definitely kept us going through a marathon day, and nobody got into any fistfights over the Toto picture disc. The pizza and beer also helped. Also, we have to thank our phenomenal crew of DJs who kept a compelling variety of deeply-dug music going all day long. High fives all around.

Moving on to official business, its a very busy release date today as we close out the month of April. First off, we have a new album from the Gorillaz. It's been seven years since their last record and we weren't sure they'd ever ride again. But here they are! And it sounds like they never left. We have the album on CD and Deluxe CD today. Unfortunately, the production gods have frowned on us for a brief moment, and we wont see the vinyl version until Monday. Feel free to reserve your LP copy via phone or in store.

American treasure Willie Nelson has a new album of all new material called 'God's Problem Child', which might be the album title of the year. In stock on CD and LP.

Sorta-Wisconsinite synth-pop sensations Sylvan Esso finally bring us their sophomore effort, and its a very colorful, energetic tweaking of their debut's sultry style.

Indie legend Feist brings us her first album in several years. It's a return to her bare-bones classic style, and it's called 'Pleasure'. I like pleasure pretty much anywhere I can get it. There's also a new Faust album out today. Feist and Faust releasing new albums on the same day? Pretty sure that's never happened before.

Speaking of legends, former Sonic Youthian Thurston Moore delivers his first proper "solo album" since his Chelsea Light Moving deal. This one's a ripper. He's got Deb Googe from frickin My Bloody Valentine on bass! Expect all the typical guitar acrobatics Moore can do, in a more concise format than previous solo efforts.

We've also got new releases from John Mellencamp, Lea Michele, Pinegrove, and Tiny Vipers, plus an album from Old Crow Medicine Show in tribute to Dylan's Blonde on Blonde, new jazz from Chris Potter and Trombone Shorty, and a new record from a supergroup called BNQT (omg where did the vowels go?) that features members of Grandaddy, Band of Horses, Midlake, Travis, and Franz Ferdinand. That's like...every band.

Still looking for more? How about a new CD from ambient legend GAS? We have some very cool Sound Signature CDs featuring unreleased tracks from Theo Parrish and related Detroit house producers, plus a stellar new album from jazzy house hero Fred P.

Some big new records and reissues turn up this week from Jonny Nash, Jan Jelinek, and Haruomi Hosono. Read on down below for extended reviews of those. We also have archival experimental reissues from Arnold Dreyblatt and Jurriaan Andriessen, and a much awaited new album from Ryuichi Sakamoto!

On the vinyl-only front, we finally have a legit LP pressing of the J. Cole album '4 Your Eyez Only'. U2's 'How to Dismantle an Atomic Bomb' is back in print on wax. And we have fresh vinyl pressings of Elton John's self titled album, plus 'Madman Across the Water'.


USED VINYL ALERT:

Heading downstairs for the USED VINYL ALERT, I want to first remind you that we still have some absolutely stunning LPs left from the trove released during Record Store Day. Check out the Dream Team: Miles Davis, Lee Morgan, Dorothy Ashby, Stars of the Lid, Ramblin Jack Elliott, Jeff Simmons, Henry Grimes, Electric Prunes, Aphex Twin, Chuck Berry, The Fugs, Larry Young, Francoise Hardy, Herbie Hancock, Ben Seger, Lydia Lunch, Victoria Spivey, Oliver Nelson, Flamin Groovies, Captain Beefheart, the Kinks, John Coltrane, the Hobbits, Tom Waits, Andy Bey, Blue Mitchell, Michael Hurley, Jackie McLean, and Townes Van Zandt!

We supplement this burbling barrage of bangers with a bunch of bins (about 400 LPs worth) of even newer arrivals. We've got a looong tall pile of bootlegs, live, and rare collections from The Beatles, Jimi Hendrix, the Kinks and the Ramones. Plus more collectible, and more importantly, very listenable records from Pink Floyd, Led Zeppelin, Tom Waits, the Fugs, Thin Lizzy, Carole King, AC/DC, Big Brother & the Holding Company, Fleetwood Mac, Queen, Eric Clapton, the Allmans, the Grateful Dead, Black Sabbath, Paul Simon, Kiss, Elton John and Billy Joel.

We've also got some fine ones from Robert Plant and Alison Krauss, the Velvet Underground, Deep Purple, Sir Doug, David Lindley, the Smiths, Soundgarden, Kraftwerk, Weezer, Depeche Mode, and Portishead!

On the folk, blues and country front, we've got John Hammond, Phil Ochs, Pentangle, Odetta, Pete Seeger, the Stanley Brothers, BB King, John White, Greg Brown, Wanda Jackson, Dolly Parton, Waylon Jennings and Willie Nelson.

Soul and R&B comes from Shirley Bassey, Diana Ross, Melba Moore, Roberta Flack, Prince, Curtis Mayfield, Lloyd Price, Booker T, Percy Sledge, the Royalettes, Stevie Wonder,Aretha Franklin, plus an ample sampling of Bob Marley, Jimmy Cliff, The Time, Jonzun Crew, and Madonna.

If you like your rock of the leather and Aqua Net variety, we have some Def Leppard, Whitesnake, Warrant, Vixen, and Winger. Winger dude.

Jazz of every stripe this week, from names like Herbie Hancock, Miles Davis, Sergio Mendes, Olatunji, Miriam Makeba, Lionel Hampton, Martin Denny.

We wrap it up with an extremely diverse variety of obscurities, novelties, spoken word, and unclassifiable albums. Sound effects, train sounds, racecar sounds, Richard Petty, Blade Runner, Robert Frost, the 3 Stooges, Cheech and Chong, MLK, Spacey stuff, Weird Al, and a coupla belly dance LPs. If variety is the spice of life, this is approaching Tabasco levels.

That's all for now. Thanks for reading! See you in the stacks.


NEW OR NOTEWORTHY THIS WEEK:
By 1978, Haruomi Hosono's musical travels had already brought him through the worlds of psychedelic rock, poppy folk, and urbane jazz, yielding several records that are rare classics in the modern Japanese canon. His attention turned to the exotica of Les Baxter and Martin Denny, and I can only imagine his first thought was 'I can do this better.' So he recruited songwriters Shigero Suzuki and jazz-funker Tatsuro Yamashita, plus session men from his old groups Happy End and Tin Pan Alley, and did just that, crafting a rather anonymous looking album that hits your ears with an abundance of understatement. 'Pacific' is a masterpiece that improves on the idea of classic exotica, a gentle fusion of folk and jazz, imbued with a lulling sense of serenity that plays on the dual meaning of its title. Listen to 'Noa Noa' on the B side, a song that delivers more beauty than any other four minute piece you can name, with Suzuki's crisp, clarion guitar gamboling across the artful keyboard and piano arrangements of Jun Sato and Ryuichi Sakamoto. The latter appears on every track of this album, leaving his subtle but indelible stamp. Later in 1978, Hosono and Sakamoto would team up with Yukihiro Takahashi to make another updated exotica album as the Yellow Magic Orchestra, a formation that would last into the next century and prove to be modern Japan's most significant musical achievement. YMO laid the groundwork for Japan's immense contribution to the world in the form of video game music, and while you don't hear much techno on 'Pacific' until the raucous LP closer 'Cosmic Surfin', the album is a primer on how a handful of skilled musicians were able to distill a broad palette of styles and standards into a format that could be mapped across 8 bits. 'Pacific' is a chance to hear cutting edge players in full flight, when only relatively small audience was listening, and as close to a perfect album as you can get.
- Evan / Strictly Discs
LP $24.99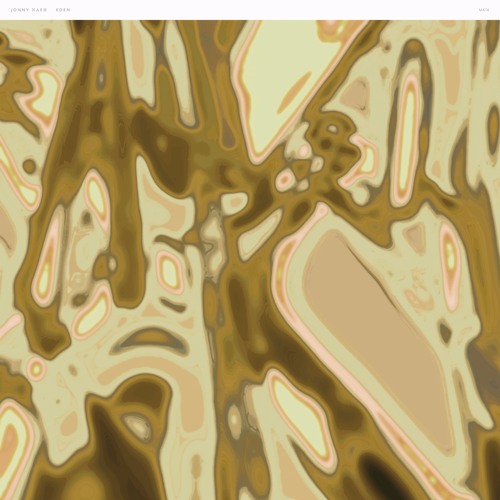 Across just a handful of pristine albums and lengthy EPs, the UK guitarist, pianist and synth tinkerer Jonny Nash has perfected a style of ambient almost cathartic in its solemnity. Nash borrows equally from the languid expressionism of Pat Metheny and the stoic acoustics of Arvo Part, while crafting fragile pieces that sound more intimate than either of those forebears. Nash recorded parts of 'Eden' in Bali, and while the LP avoids direct ovations to the traditional gamelan sounds of that locale, it does seem to have adopted its insistent, if irregular, patterns of incidental tones. As a result, 'Eden' marks a shift away from the showroom elegance of his past efforts, becoming something more murky, humid, and evanescent, like sweat beading on a glass of dark beer. Nash is one-third of the ambient power trio Gaussian Curve (whose second album should be arriving any day now) along with producer Young Marco and legendary Italian filmscore pioneer Gigi Masin, and it's clear that time spent with Masin has rendered Nash's own music even more patient and more attuned to the inherent rhythms of his surroundings. A spectacular LP here, with cover art that threatens to eclipse the music in terms of irregular, refractory beauty.
- Evan / Strictly Discs
LP $18.99
After a decade and a half out of print, at last we have a fresh version of Jan Jelinek's magnum opus, a record that ushered electronic music into the 21st century not with a bang, but with a digital whimper. Jelinek jumped into the production game just before the crest of the minimal techno trend, a wave of blips, clicks and bloops that left behind only a handful of records that have aged particularly well, amid a great deal of tedium. 'Loop-finding-jazz-records' is the record that defines this genre, and immediately transcends it. It's title, in vintage IDM fashion, elliptically describes the process by which it was made. Jelinek was an avid collector of jazz, funk and soul LPs, and every sound here is sourced somehow from old wax. What you hear, however, is far from anything typically called jazz; all solos, phrases, and indeed any evidence of a performer have been meticulously erased, leaving behind the dust and detritus of a draftsman's table. Opener 'Moire (Piano & Organ)' is a symphony of static played on a bed of looping Rhodes, less notes than notions, with all percussion events arriving in the form of clipped single woodblocks, crackling, empty lead-in grooves, and what sounds like a needle lifting off of an LP. Album highlight 'Tendency' locates a thrumming techno groove in a rapidly looped bit of acoustic ephemera, marked with a spindly snare. It's the most 'club-friendly' cut on an album much more suited to solitary contemplation, and a nimble bit of double-duty. Jelinek was operating in uncharted territory only hinted at in the ambient works of Aphex Twin (who would also try his hand at this type of abstraction on 2001's 'Drukqs'), creating highly theoretical music that leaned hard on the power of suggestion, asking the listener to hear things that weren't quite there. The LP was a sensation with lasting impact in the electronic world, but the album has sat out of print for 15 years, perhaps waiting out a half-life in which it's ambiguity could be properly felt and championed, by artists as diverse as Bjork, The Field, the Postal Service, Actress, and many many more. Available now with extra tracks taken from Jelinek's debut EP.
- Evan/Strictly Discs
LP $22.99
For a brief period in the early 1980s, British audiences were captivated by an animated TV show called 'The Moomins'. Based around the adventures of a family of vaguely hippo-like woodland creatures, 'The Moomins' was derived from a Finnish folktale, created by a Polish animator, originally aired on German and Austrian telly, and scored by a pair of musicians sourced from the London DIY underground. As you might imagine, the show has taken on a bit of nostalgic heft over the years, while an easily accessible soundtrack has proven elusive. In steps Finders Keepers, the UK label that's now been rescuing precisely these types of essential arcana across two decades, delivering a soundtrack that instantly comes across as any collector's dream come true. With homebrew synths, drum machines, tape tweaks, and a healthy pinch of ocarina, Miller and Shill crafted an ethereal otherworld that evenly splits the difference between adventurous naivete and ominous dread. Like the endlessly listenable (and perennial SD staff fave) 'Lord of the Rings' album by Bo Hansson, 'The Moomins' is full of charming, infectious and weird moments that will make it a fixture on your player of choice.
- Evan
CD $14.99 / LP $24.99
UPCOMING INDIE-ONLY VINYL EDITIONS - PRE-ORDER NOW:


April 28 - Thurston Moore - Rock N Roll Consciousness - indie exclusive deluxe 2LP edition, limited to 1,000 copies.




May 5 - Slowdive - S/T on silver vinyl




May 5 - Afghan Whigs - In Spades on Sub Pop LOSER edition white vinyl




May 5 - At The Drive In - In*ter A*li*a - deep purple splatter vinyl




May 5 - Mac DeMarco - This Old Dog - white vinyl




May 5 - Perfume Genius - No Shape - clear vinyl




May 5 - Blondie - Pollinator - off-white vinyl




May 5 - Girlpool - Powerplant - translucent red vinyl




June 2 - Dan Auerbach - Waiting On A Son - blue/yelllow vinyl




Beach Fossils - Somersault - red vinyl




July 14 - Waxahatchee - Out In The Storm - deluxe 2LP on colored vinyl


NEW & VINTAGE TURNTABLES + STEREO GEAR IN STOCK:

The basement is fully stocked with new and vintage equipment:

New turntables (Stanton, U-Turn Orbit & Pro-Ject Debut Carbon) starting at $149.
New speakers (Kantu YU2) for $174.
Vintage turntables, speakers & receivers starting at $99.
Full vintage systems including turntable, receiver & speakers, starting at $299.


OTB:
This isn't the spot to lay down odds on the third race. OTB is where Others Talk Back and give you the lowdown on what they've been feeling lately. This one's for the customers.

Some of the various artists include members of Wilco, REM, the Posies along with guests such as Robyn Hitchcock, Jessica Pratt and the Kronos Quartet. Those musicians are augmented by a horn section and a raft of guitar players and percussionists, along with Jody Stephens from the original Big Star. The focus of the album is the masterful recreation of the "Third" album by Big Star. All of the musicians know and love the off-kilter heartache that made the original album a masterpiece. The recreated material is performed with an intense love for the material and with the same intensity that drove the original songs. As one of the musicians says, "We love these songs and we love playing them." The musicians also perform numbers from the first two Big Star albums, but the focus is rightfully on "Third." "Thank You Friends" is a perfect example of how to do a tribute album right. This album is available as a two cd version and also as a two cd/one dvd package.
- Ted Talks
This album is only the third collection of original material since the Kinks broke up in 1996. And the other two albums were to be kind, a bit on the spotty side. By the way, "Americana" is an aural companion to Mr. Davies' book of the same name from 2016. "Americana" is certainly better than those other two solo albums, and it may be the best work that Mr. Davies has produced since his work with the Kinks in the eighties. He is backed up on the entire album by the Jayhawks so there is a consistency of sound that holds the album together. He used a real, hard-working band that probably saw him as a hero. Maybe that is what drove Mr. Davies to produce such a great album. There is a trope in rock that as a performer ages, he or she is incapable of producing anything like their best work from the past. "Americana" is the exception to that rule.
- Ted Talks
Mr. Hitchcock is another performer who has been a working musician for decades and has produced a large catalog of albums. And like Mr. Davies, Mr. Hitchcock has produced an album that ranks up with his best. This set may be his best music in over a decade, since the days of the Venus 3. And that past includes a few great albums with the Soft Boys and more than a few great ones as a solo artist I don't know the reason for the success of this album. Maybe it is a crackerjack band that he assembled? Maybe it was an alignment of the stars that gave Mr. Hitchcock a laser focus of writing some very inspiring songs? And Mr. Hitchcock didn't have to subtract one iota of his very idiosyncratic musical talent and persona to achieve it. I don't know how he did it, but whatever he did, keep on doing it.
- Ted Talks
NEXT MUSIC TRIVIA TUESDAY, MAY 23RD AT THE HIGH NOON SALOON:


Our next MUSIC TRIVIA at the High Noon Saloon is Tuesday, May 23rd. Registration starts at 5:30 with the first question from Angie and Marty at 6PM.


SELL US YOUR CDs & LPS:
OUR WEBSITE IS UNDER CONSTRUCTION:

We are working on some updates, if you encounter issues or need assistance, please email angie@strictlydiscs.com or phone the shop at 608.259.1991.



Ron, Ryan, Angie, Ethan, Evan, Marty, Luke, Justin, Matt, Michael & Ben