STAY TUNED
STRICTLY DISCS WILL BE OPEN MEMORIAL DAY 11AM-4PM:
THIS WEEK AT THE SHOP:

What's shaking, Strictly Discs frequenters? The sun's back out and the windows are open, and we've got all the jams you need for Memorial Day. Here's a full rundown of what's new at the shop.

Off the top, we've gotta call out the fresh haul of used CDs upstairs. Check the new arrivals, rock, indie, jazz, blues, hip hop and electronic sections for some fresh scores.

This year marks the 50 year anniversary of the release of one of pop music's greatest landmarks: the Beatles' 'Sgt. Pepper's Lonely Hearts Club Band.' We have the expanded 2-CD and 2-LP versions, each with an extra disc of alternate takes, plus the super-deluxe version, which includes 4 CDs, a DVD, and a very large book. While they last, we have some very nice lithographs of the fellows in their uniforms to give away with purchase.

Modern jazz-folk avatar Sam Amidon has a new record produced with Eno collaborator Leo Abrahams and a bunch of elite guest players.

Beloved son of the Americana scene Justin Townes Earle has a new record out called 'Kids in the Street'.

Kraftwerk commemorate their recent live shows with a massive 8 CD/8 LP box set.

We've got new releases from Hazel English, Crescent, Incubus, the Charlatans, and Lil Yachty.

On the reissue front, we've got expanded reissues from Bad Company, Emerson Lake and Palmer, a first time vinyl pressing of Sia's 'Some People Have Real Problems', plus vinyl versions of the new John Mayer and new Chainsmokers albums, and vinyl represses of Sweet Sweetback's Badass Song, Underworld's 'Beaucoup Fish', Bill Laswell's 1983 debut solo album 'Baselines', and Tangerine Dream's 'Alpha Centauri'.

On the jazz front, we have new releases from Bill Frisell, Louis Hayes, Hampshire & Foat, plus a new collection of Astor Piazzolla tunes.

In the electronic world, check out new ones from Shanti Celeste, Iona Fortune, Felicia Atkinson, Neo Image, Pearson Sound, Helm, JD Emmanuel, and Move D!


NEW OR NOTEWORTHY THIS WEEK:
'Tao of I' is the startling debut album from Glasgow's Iona Fortune, a new producer long-affiliated with Scotland's premier underground label Optimo. Searing and resolutely spectral, little about this record indicates that it comes from a musician with no prior releases to her name. Utilizing a seamless blend of guzheng (a large Chinese zither), gamelan gongs and an ancient Synthi AMS, Fortune constructs these 8 pieces less as tracks, and more as ornate, symbolic arrangements of complementary tones. The poised flutter of the guzheng will be familiar to listeners of Chinese traditional music, but it is very quickly subsumed into a more contemporary bass-heavy roil. Fortune's music is a study in contrast: her swelling bass notes sound ever more ominous when rattling gongs play the foil, and vice versa, when synthetic and hand-played rhythms phase and blend, echoing off of a great abyss. This record is right at home on Optimo, a label that continually re-invents the dark-side of club music, and has already graced the world with their excellent 'Miracle Steps' compilation, which also featured Fortune, earlier in the year. She's said to have 7 more of these albums in the works, so make room.
- Evan / Strictly Discs
LP $21.99
The catalog of Norwegian ambient pioneer Geir Jenssen's Biosphere project is as vast as the Arctic region his sound most accurately resembles, but far more forgiving, at least in terms of sonic comfort. His latest mini-album may not rank with genre defining records like 1997's 'Substrata' or 2000's 'Cirque', but it's a finely condensed introduction to his soundworld. Jenssen first turned his attention to noir with his soundtrack for the 1997 verite thriller 'Insomnia', and he returns here, with a suite of songs that incorporate dialogue and themes from the 1936 film 'The Petrified Forest', which takes place in a lonely Arizona desert diner. Against a backdrop of breathing orbs of cold tone and seismically lurching beats, the sampled voices of Joan Lorring and Bette Davis crop up less as people than as feverish visions. On 'Just A Kiss', Jenssen displays his knack for melody which, when glimpsed amidst so much desolation, feels like striking a rich vein of life.
- Evan / Strictly Discs
CD $11.99 / LP $17.99
Before the continents were wired together with massive underwater cables, musical bubbles had a thicker surface on them. Sometimes, they burst, with the Beatles and Stones re-colonizing the minds of American adolescents, or Hendrix and Cream touching down in equatorial Africa. Mostly, however, these bubbles kept scenes small, insular, and fertile, in ways that we only truly appreciate now, with every last thing at our fingertips. Such was the mode in 1970s Australia, when the bands who make up the killer compilation 'Follow The Sun' were plying their trade. While none of the names here became known outside of Oz (Marian Henderson, Gary Shearston, Paul Adolphus), it's clear that something was getting through to the island; you hear traces of The Band, CSNY, Jackson Browne here, and the comp's standout track is Henderson's slouchy cover of the Incredible String Band's 'First Boy I Loved'. Still, as curator Mikey Young (Eddy Current, Total Control) writes in his affable liner notes, "to try and tie a common set of ideals to these artists seems a little absurd....Not much of it sounds uniquely Australian to me beyond an accent." And yet, like with any successful compilation, there is an ineffable unifying feel to these songs. They sound languid, peaceful, patient, and yearning, whether its Carnie O'Sullivan plucking her autoharp, or Autumn's plaintive 'Kill My World', bookended by plangent fanfares. Much like recent Oz-oriented comps like 'Sky Girl' and 'Midnight Spares', 'Follow the Sun' introduces you to strangers who will become immediately familiar.
- Evan / Strictly Discs
CD $12.99 / LP $26.99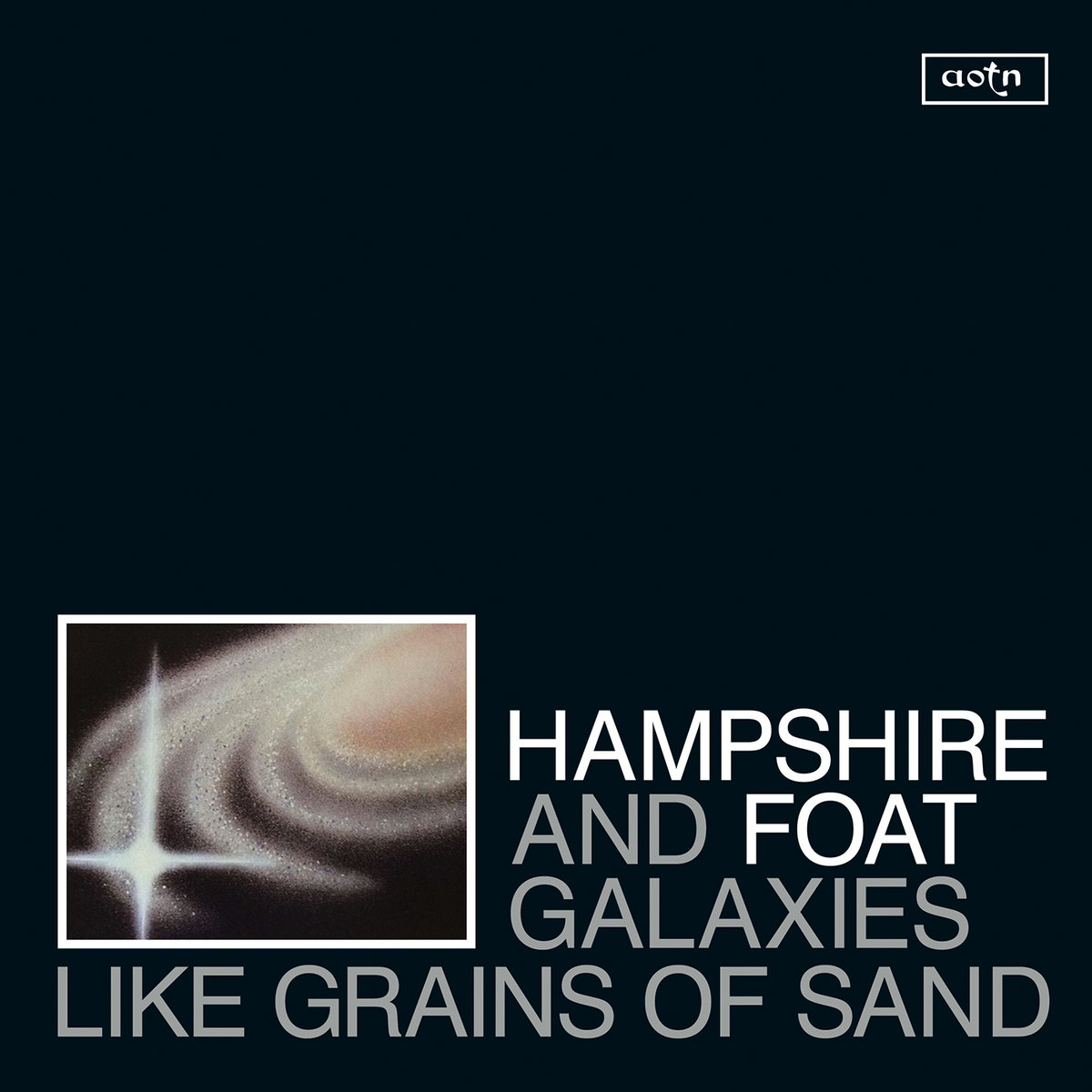 The majestic new album from the group led by UK musicians Warren Hampshire and Greg Foat unfolds like a patiently-told story of an entire epoch of music. Joined by members of Foat's steady eponymous 'Group', plus crack UK session drummer Clark Tracey and an Edinburgh symphony orchestra, Hampshire and Foat set the controls of their vibraphones, guitars and baby grands for the heart of the cosmos. You might not hear a 'warmer' record this year, and judging by the production credits here ("Recorded 100% analog to direct 2" tape and mixed down on fully analog desk from tape direct to the old Sun studios 1/4 Valve tape machine"), that's entirely intentional. In delicate, swooning arrangements, the arrangers represent every corner of their surely-vast record collections; I hear Bobby Hutcherson mellifluous precision, the thick air of 'In A Silent Way', Riz Ortolani's bells tolling across Morricone's vast plains, Eberhard Weber's budding basslines, and Gamble & Huff's soaring, disco-ready strings. You will probably hear a hundred other things. This one comes from the esteemed soul reissue label Athens of the North, who have spared no detail in packaging this LP in the exquisite old style.
- Evan / Strictly Discs
CD $14.99 / LP $25.99
USED VINYL ALERT:

Heading downstairs for this week's USED VINYL ALERT, we have yet another diverse spread of new arrivals for your perusal, covering nearly every genre that we handle. We've also refreshed the dollar bin once again, with over 300 new 99 cent LPs and a fresh crop of 100 7"s.

Following from last week, we have another remarkable selection of recent releases that have come back to us in barely-played shape. Check out recent perennial faves, and some rarities, from names like Sonic Youth, Yo La Tengo, Ty Segall, the XX, Dave Matthews, Get Up Kids, M83, Sleater-Kinney, Neutral Milk Hotel, Salem, Real Estate, Toro Y Moi, Queens of the Stone Age, St. Germain, Tame Impala, Sigur Ros, Sharon Van Etten, Black Keys, Beachwood Sparks, Frankie Rose, Deadmau5, Twin Shadow, Future Islands, Bill Callahan, Death Cab, Murder by Death, St. Paul and the Broken Bones, Vampire Weekend, Band of Horses, Blind Pilot, Pedro the Lion, Car Seat Headrest, St. Vincent, First Aid Kit, Black Lips, Radiohead, Flaming Lips, Wild Nothing, Washed out, and a whole lot more!

On the classics front, we have some great ones this week from Frank Zappa, many Doors LPs, Van Morrison, lots of Jimi Hendrix including a handful of rare boots, the Zombies, the Stones, the Kinks, the Beatles, the Who, The Band, CSNY, Bowie, John Prine, Rush, Clapton, JJ Cale, the Pogues, Joni Mitchell, T.Rex, and a whole lot of Dylan including some early first/second pressings and mono copies.

On the heavier, weirder side of rock n roll, we've got LPs from Flaming Ember, Tom Verlaine, Alice Cooper, Ozzy, King Crimson, the Scorpions, the Stranglers, Sam the Sham and the Pharoahs, Santana, and Donovan. Plus 80s punk, alternative and new wave, including Kim Wylde, Wonder Stuff, Wreckless Eric, Wax, Harry Thumann, Talking Heads, Bad Brains, the Residents and the Smiths.

On the folk and country tip: Dave Van Ronk, Bob Brozman, Pete Seeger, Kay Gardner, Buffy St. Marie, Loretta Lynn, Conway Twitty, Johnny Cash, and the Highwaymen, while blues comes from Silas Hogan, Lightnin Hopkins, Bessie Smith, Sister Rosetta Tharpe, and Dr. John.

If it's soul you seek, its a fine week, with LPs from Stevie Wonder, Wilson Pickett, the Temptations, War, Booker T, Jerry Butler, the Shirelles, Mahalia Jackson, Otis Redding, Sade and the Miracles! Popular vocalists of every strip this week, including Jerry Lee Lewis, Dinah Washington, Jose Feliciano, Francois Hardy, Nina Simone, Ella Fitzgerald, Frank Sinatra, and Billie Holiday!!

We've got an assortment of jazz this week from Duke Ellington, Art Tatum, Gene Harris, Ron Carter, Bobby Hutcherson, AC Jobim, Coleman Hawkins, Lester Young, Steve Kuhn and Milt Jackson, plus a brace of seldom seen late 80s hiphop 12"s from names like Common, Run DMC, Busta Rhymes, Method and Red, Eric B and Rakim, the Fugees, Another Bad Creation and TLC.


UPCOMING INDIE-ONLY VINYL EDITIONS - PRE-ORDER NOW:

June 2 - Halsey - hopeless fountain kingdom - red vinyl with yellow splatter




June 2 (new date) - Blondie - Pollinator - off-white vinyl




June 2 - Benjamin Booker - Witness - blue vinyl




June 2 - Dan Auerbach - Waiting On A Son - blue/yelllow vinyl




June 2 - Beach Fossils - Somersault - red vinyl




June 9 - Rancid - Trouble Maker - violet vinyl




June 16 - Jason Isbell - The Nashville Song - indie version includes 22 page 11"x11" book




June 23 - King Gizzard and the Lizard Wizard - Murder of the Universe - blood and pool blue vinyl




June 23 - Jeff Tweedy - Together At Last - opaque yellow vinyl




June 23 - Radiohead - OK COMPUTER OKNOTOK 1997 2017 - 3LP opaque blue vinyl




July 14 - Waxahatchee - Out In The Storm - deluxe 2LP on colored vinyl


FREE JUSTIN TOWNES EARLE 7" WITH PREORDER:
NEW & VINTAGE TURNTABLES + STEREO GEAR IN STOCK:

The basement is fully stocked with new and vintage equipment:

New turntables (Stanton & Pro-Ject Debut Carbon) starting at $149.
New speakers (Kantu YU2) for $174.
Vintage turntables, speakers & receivers starting at $99.
Full vintage systems including turntable, receiver & speakers, starting at $299.


OTB:
This isn't the spot to lay down odds on the third race. OTB is where Others Talk Back and give you the lowdown on what they've been feeling lately. This one's for the customers.

Everyone's favorite wrestling mask wearing surf instrumental group returns with a loving tribute to the music of Nick Lowe. The Straitjackets have toured with Mr. Lowe in the past, including a Madison stop a few years ago. So this tribute album is a natural. Songs from all through Mr. Lowe's career are tackled in their own inimitable style. Who would think that surf instrumentals of Mr. Lowe's career would work? What makes the concept work is the gorgeous melodies that Mr. Lowe wrote, some being from over 40 years ago. And they are a hoot to hear surf style. This album is a definite left field smash. Includes an appearance from Nick himself.
- Ted Talks
This duo from Montreal concocts a delightful stew taken from a stock of Indie Pop, Psychedlica, Eighties Synth Pop, Sixties French Pop and a bit of twenty-first century production. "She-Devils" is beguiling and enchanting pop, but has enough meat on its bones to stand up to repeated listenings. I was surprised how accomplished and good this was for a first album.
- Ted Talks
On their sixth album, this San Diego band is less-polished than on their last several releases. Their Surf-Psvch-Punk sound hasn't sounded this "dirty" since their first several albums. I think that the band sounds best when they are less in control. "You're Welcome" has all the charm and grit of their early well-regarded work.
- Ted Talks
This is the first release from this San Francisco experimental rock band in ten years, and only their seventh since 1989. "Thin Black Duke" is a skewered and loosely based look at Bowie's Thin White Duke period. The music, however, sounds nothing like Bowie. Instead think of Pere Ubu, The Birthday Party and the Afghan Whigs. The band is augmented by a sixteen piece orchestra. The orchestra and the subject matter make this a much more "normal" sounding album than some of their past releases. It also gives the songs a grander feel that the band never really had in the past. "Thin Black Duke" is a challenging album. But is an album that will reward the listener many times over in the end.
- Ted Talks
NEXT MUSIC TRIVIA TUESDAY, JUNE 27TH AT THE HIGH NOON SALOON:


Our next MUSIC TRIVIA at the High Noon Saloon is Tuesday, June 27th. Registration starts at 5:30 with the first question from Angie and Marty at 6PM. Save the date for trivia on July 25th.


SELL US YOUR CDs & LPS:
OUR WEBSITE IS UNDER CONSTRUCTION:

We are working on some updates, if you encounter issues or need assistance, please email angie@strictlydiscs.com or phone the shop at 608.259.1991.



Ron, Ryan, Angie, Ethan, Evan, Marty, Luke, Justin, Matt, Michael & Ben