STAY TUNED
THIS WEEK AT THE SHOP:

Holy smokes you guys, there are a LOT of fresh records and CDs, new and old, making their debuts at the shop this week. In the spirit of fitting them all in, I will try to make this as brief as possible. I know everyone has busy lives. If you want to just skip this and come straight to the store, that's also fine. First, the new releases!

Starting with the biggest (sizewise) first, we finally have the Childish Gambino 'Awaken, My Love!' on vinyl! This limited edition virtual reality version comes with 2 45 rpm LPs, a huge booklet, a VR headset with downloadable content, and a glow in the dark cover. Whatever you say, Childish!

The Mountain Goats' John Darnielle was making high/low concept albums about everyday life when Father John Misty was still in T-Ball, and he's still at it! His latest is called 'Goths', it's about goths, and we have it on CD, LP and very limited Deluxe LP.

Chicago footwork Jlin completely turned the dance world on its side with her debut, and now she's back with an even more breathtaking follow-up, 'Black Origami'. Don't trust me? Pitchfork gave it Best New Music today.

At last, we have more copies of the absolutely unreal Outro Tempo compilation on Music From Memory. Read on down below for reviews of that and some more great new releases.

Brooklyn polyglot popper Alex G brings us a new head-scratcher of a record called 'Rocket' on CD and LP.

Madisonian slash Baraboovian slash goddess from heaven above Monica Martin has a new album out in collaboration with Violents, which we now have in stock on vinyl.

Kurt Vile's classic early EPs 'So Outta Reach' and 'Square Shells' are back in print on vinyl. We also have vinyl reprints of two classic Helium albums from the 90s, led by Mary Timony of Wild Flag/Ex Hex fame.

We've got new releases from Do Make Say Think, Jane Weaver, Land of Talk, Man Forever, Guerilla Toss, Wavves, ! ! !, Pokey Lafarge, and Misterwives!

NYC stoner minimalists Endless Boogie are back with another slayer called 'Vibe Killer'. That title must be about someone else and not them, because no vibes are harmed on this record. Quite the opposite really. There's even a song about a Kiss concert and kite festival in St. Louis, 1973.

Speaking of heshers, we have represses of some classic, out of print LPs from Voivod and Iron Maiden!

Just in time for the rebirth of Twin Peaks, how about an LP repress of the Blue Velvet soundtrack?

On the jazz and weirdo front, we've got new ones from a duo of Craig Taborn and Ikue Mori, a CD version of the Wynton Kelly/Wes Montgomery release from RSD, a new Rob Mazurek project called Black Cube Marriage, a properly sanctioned reissue of the stone classic 'Mulatu of Ethiopia' album, and a reissue of the Lloyd McNeill Quartet's 'Washington Suite'.

Into the Light brings us a great compilation of tracks from Greek ambient/new age producer Akis. We have a new LP from Blaze Foley of 'Lost Muscle Shoals Recordings', Manu Dibango's LP 'Ceddo' is in the house, plus a fresh copy of John Carpenter's 'Escape From NY' Sdtk. There's a reprint of the excellent Supreme Jubilees reissue back in the house, and we also have a stunning Ethiopiques 45 box that was delayed from Record Store Day.

On the electronic front, we have new ones from Eric Copeland, Helena Hauff, Nature Boy, Steve Summers, Le Car, Biosphere, Kira-Lis Coverdale, Suzanne Ciani, and Talamanca System!


NEW OR NOTEWORTHY THIS WEEK: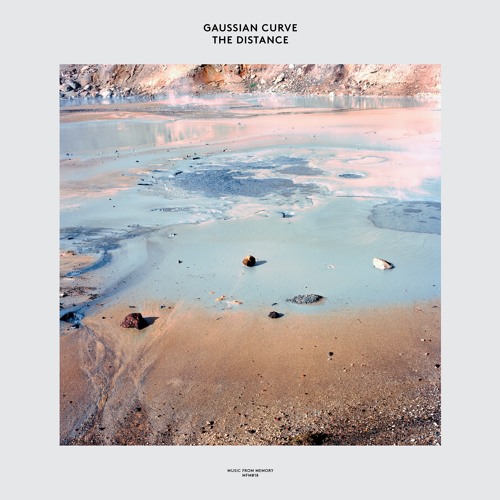 As the disturbed waters of the world roil, a conspicuous sound has gained prevalence in a passive, yet resolute opposition to the chaos. Some of the most contemplative, chilled out music in memory is being made these days by a conclave of producers located just a pebble skip from the club. Their standard bearer is the miniature supergroup Gaussian Curve, the trio of Italian widescreen piano pioneer Gigi Masin, British guitar sketcher Jonny Nash, and the Dutch house producer Young Marco Sterk. The group's sophomore effort follows their sensational debut 'Clouds', one of 2014's best albums, and where that LP introduced the trio's meeting in a tentative minimalism, 'The Distance' reflects a group with a much larger comfort zone. It feels impossible to convey how egalitarian this music sounds; on certain tracks, Masin's pendulous, sustained piano tones seem to direct all movement, while elsewhere, it's the loose grip of Nash's slippery guitar, or the eddying synth arpeggios played by Sterk. Often, its all three in a unison so smoothed out that you can't really tell who's playing what. Masin has made soundtracks for the Mediterranean across decades, while Young Marco's uptempo tracks have long mined the color palettes of Italian house; these sensibilities lightly play off of Nash's more austere, foggy outlook for a swirling blend that sounds like a whole timezone taking a load off. 'The Distance' is the most compelling relaxation album of the year.
- Evan / Strictly Discs
LP $24.99
For those not keeping track, Guerilla Toss is an update on the mutant dance rock blend, modernized for the most manic. With GT Ultra, they continue their ingenuity in forcing the dizziest, zigzagging, rhythmic herky-jerks into heart racing groove courses. Stretching the mold, this time there's a much stronger emphasis on vocal melodies and harmonies than the yells and shrieks on earlier records. Other detours from the GT formula include the mid-tempo synthy fog of "Dose Rate" and the malfunctioning autotune in "Crystal Run." Sounds like having a bad trip to Funky Town.
- Michael / Strictly Discs
CD $13.99 / LP $18.99
As it's military dictatorship withered and weakened in the early 1980s, Brazil's wildly diverse musical scenes emerged victorious, capping off decades of provocation and resistance. There are certainly some fine compilations out there annotating Brazil's many samba, jazz and pop triumphs from this time, but we've never had a more thorough examination of Brazil's more eccentric, electronic side than we get with Music From Memory's sparking double-LP set 'Outro Tempo'. As they have done with each successive release in their peculiar catalog, the MFM fellows have topped themselves again, enlisting the assistance of heralded Spanish collector John Gomez in a set of obscurities that teems with years of research, and does ample justice to an incredible breadth of sounds. There is so much here: Os Mulheres Negras' snappy, Eno-ish synth-pop; Piry Reis' subtly hallucinogenic soft-rock MPB; Carioca's poignant acoustic guitar; Marco Bosco's happy woodblock folk; Anno Luz' plaintive minimal synth; Fernando Falcao's glittering traditional percussion. The set's two standout tracks sit at opposite ends of a spectrum. New age guru Priscilla Ermel's 16 minute epic 'Corpo Do Vento' is an ambient topographical map, an open trot through all manner of drums and congas, jew's harp, piano, guitar, flute and synth, that feels like a four-season journey. At the other end is Andrea Daltro's 'Kiua', a pristine slice of funky synth-pop that sounds like a glass showroom planted in the middle of a rainforest, with Daltro's voice flitting to superhuman registers. If you hear a better song all year, let me know. The first printing of this compilation disappeared from shops within days earlier this year, and it's easy to see why: it's rare to come across a selection of music that's both this obscure and this captivating.
- Evan / Strictly Discs
2LP $31.99
She may not be much of a household name in the States, but Jane Weaver is a kind of psychedelic treasure over in her native UK. Her musical career dates back to the 90s, when she sang for the Lush-esque indie band Kill Laura, but she didn't rise to prominence until her 2014 album 'The Silver Globe' rode a groundswell of critical acclaim, transforming her from an obscure avant-folkie to an "album of the year" artist. 'Modern Kosmology' continues the momentum of that LP, delivering ten tracks of expert, trim and redolent psychedelia that ticks more boxes than some artists manage in an entire catalog. Opener 'H>A>K' delivers the barreling Krauty stampede of Amon Duul or Hawkwind, 'Loops in the Secret Society' recalls Sibylle Baier or, more recently, Josephine Foster, belting over a perfect blend of Suzanne Ciani's synthwaves and Fairport Convention's meadow rock. The spirit of Broadcast's Trish Keenan looms unmistakably here; Weaver sounds like she's proudly carrying her tradition forward, tunneling multi-dimensionally through a mythical past and an alternative future.
- Evan / Strictly Discs
CD $13.99 / LP $21.99
USED VINYL ALERT:

Heading downstairs for the USED VINYL ALERT, its a cavalcade of choice cuts, with the scales just about balanced between the very old and the almost brand new.

Why not start with the newest? A couple rounds of spring cleaning have brought us quite the impressive selection of recent releases in like new or very good condition, so if you missed your chance at snagging these when they came out, here's another opportunity. We've got LPs from Daft Punk, the Horrors, Grinderman, Sufjan Stevens, Arctic Monkeys, Blur, the White Stripes, Peaking Lights, Phantogram, Queens of the Stone Age, Deerhunter, the Strokes, Ty Segall, Pavement, the Arcade Fire, Built to Spill, Ween, Wolf Parade, My Bloody Valentine, Pulp, Jesus and Mary Chain, Tenacious D, Sigur Ros, Mumford and Sons, Okkervil River, Iron and Wine, Pearl Jam, Coldplay, Belle & Sebastian and (somehow) a whole lot more!

It's a big, big, big week for jazz. We've got some cheap classics and some very rare collectibles from Alice Coltrane, Lee Morgan, Albert Heath, Don Patterson, Art Blakey, Shirley Scott, Charles Mingus, Thelonious Monk, Cal Tjader, Ralph Towner, Chick Corea, John Coltrane, Jack McDuff, Booker Ervin, Larry Coryell, Les McCann, Herbie Hancock, Gene Ammons and Elvin Jones, plus some very cool spiritual and free jazz including Strata East LPs from Shamek Farrah and Stanley Cowell, plus some big ones from Don Cherry, the Art Ensemble, and Steve Lacy.

Continuing in the world/fusion/genre-less vein, we have a very cool assortment of records from all over the dang planet this month. Some very nice Bollywood soundtracks, vocal and pop records from Egypt, Lebanon and Pakistan, Belly dance LPs, a whole slew of afro-latin drum records (samplers, ahoy!) including huge ones from Sabu, Olatunji, and Glen Velez, plus essential slabs from the Congotronics, Edgar Froese, and Ryuichi Sakamoto!

We continue our expansion into the wide world of 45s and 7"s with a fresh haul of an extreme variety. Punk, hardcore, psych rock, new wave, rap, synthwave, and soundtracks in this little haul, with cool ones from I'm A Cult Hero aka The Cure, Star Wars OSTs, God is My Co-pilot, New Pornographers, Marilyn Monroe, the Beach Boys, the Beatles, the Mono Men, and a long selection of Japanese picture sleeve 45s, with some of the best cover art you will ever see. About half of these are Japanese versions of Western singles from bands like the Ventures, the Monkees and the Walker Brothers, while the rest are Japanese garage, pop and freakbeat bands!

Back on the LP front, we've got beaucoup 80s classics from the Dream Syndicate, Prince, the Ramones, Devo, U2, the Church, the Flamin Groovies, Cyndi Lauper, Michael Jackson, and Bob Marley.

Its a whole lot of blues this week, including several great compilations, and some early pressings from names like Bonnie Raitt, Johnny Winter, James Cotton, Taj Mahal, Linda Hopkins, BB King, Muddy Waters, Paul Butterfield, Albert King, John Mayall, Etta James, Hooker and Heat, Otis Spann, Odetta, and Memphis Slim.

Plenty of great rock this week, starting off with a whole slew of the most desired Jimi Hendrix LPs and several more obscure ones, plus fine slabs from Gram Parsons, Van Morrison, JJ Cale, CSNY and also C (David Crosby) and Y (Neil Young), Sir Doug, Deep Purple, Aerosmith, Alice Cooper, Pink Floyd, Harvey Mandel, the Shangri-Las, Elephant's Memory, Kiss, CCR, Bruce Springsteen, the Kinks, Bob Dylan, the Grateful Dead and the Rolling Stones.

On the soul and groove front, we've got Curtis Mayfield, Aretha Franklin, Stevie Wonder, James Brown, Linda Lewis, Eddie Kendricks, Smokey Robinson, Earth Wind and Fire, and many more.

We cap it off with some great vocalists, including Frank Sinatra, Dean Martin, Sammy Davis Jr, Tony Bennett, Harry Belafonte, Fontella Bass, Billie Holiday, and the mother of them all, Nina Simone.

Read this far? Congratulations! Stop on down this weekend to see what we had to leave out!


UPCOMING INDIE-ONLY VINYL EDITIONS - PRE-ORDER NOW:


May 19 - Mountain Goats - Goths - Opaque Red 2LP + Tracklight Green Bonus 12"




May 19 - !!! (Chk Chk Chk) - Shake The Shudder - transparent vinyl




June 2 - Halsey - hopeless fountain kingdom - red vinyl with yellow splatter




June 2 (new date) - Blondie - Pollinator - off-white vinyl




June 2 - Benjamin Booker - Witness - blue vinyl




June 2 - Dan Auerbach - Waiting On A Son - blue/yelllow vinyl




June 2 - Beach Fossils - Somersault - red vinyl




June 9 - Rancid - Trouble Maker - violet vinyl




June 9 -Big Thief - white or gold vinyl




June 16 - Com Truise - Iteration - blue & white vinyl




June 16 - The Drums - Abysmal Thoughts - clear vinyl




June 16 - David Bowie - Hunky Dory - gold vinyl




June 16 - David Bowie - The Rise and Fall Of Ziggy Stardust And The Spiders From Mars - gold vinyl




June 23 - King Gizzard and the Lizard Wizard - Murder of the Universe - blood and pool blue vinyl




June 23 - Radiohead - OK COMPUTER OKNOTOK 1997 2017 - 3LP opaque blue vinyl




July 14 - Waxahatchee - Out In The Storm - deluxe 2LP on colored vinyl


FREE JUSTIN TOWNES EARLE 7" WITH PREORDER:
NEW & VINTAGE TURNTABLES + STEREO GEAR IN STOCK:

The basement is fully stocked with new and vintage equipment:

New turntables (Stanton & Pro-Ject Debut Carbon) starting at $149.
New speakers (Kantu YU2) for $174.
Vintage turntables, speakers & receivers starting at $99.
Full vintage systems including turntable, receiver & speakers, starting at $299.


OTB:
This isn't the spot to lay down odds on the third race. OTB is where Others Talk Back and give you the lowdown on what they've been feeling lately. This one's for the customers.

This album is Mr. Weller's thirteenth solo album since 1992. The album also continues in the genre-hopping vein of his past several albums. The genre-hopping on "A Kind Revolution" is back to the future. Mr. Weller zeroes in on his personal past (Style Council) and on popular music's past (Soul, R&B, Jazz and Funk). With over forty years in music, Mr. Weller is a master of musical composition and songwriting and winningly handles the demands of all of the genres Also apparent is Mr. Weller's deep love and respect for all different styles that he attempts. But the music also has his personal style infused in all of the songs These are not mere stylistic retreads that Mr. Weller tossed off. "A Kind Revolution" is yet another musical success that continues his late in life renaissance.
- Ted Talks
For most of their twelve year career, Woods has been one of America's finest proponents of psychedelic folk. Otherwise known as freak folk. The lysergic musical touches are still present but the lyrics are surprisingly positive and mainly dealing with all the positive aspects of being head over heels in love. Woods are not ashamed of being in love and want the whole world to know it. Freak folk and love songs, however, go together rather well. "Love is Love" may be jarring upon first listen, but repeated listens reveal that it is one of the finest albums of their career.
- Ted Talks
NEXT MUSIC TRIVIA TUESDAY, MAY 23RD AT THE HIGH NOON SALOON:


Our next MUSIC TRIVIA at the High Noon Saloon is Tuesday, May 23rd. Registration starts at 5:30 with the first question from Angie and Marty at 6PM. Save the date for trivia on June 27th.


SELL US YOUR CDs & LPS:
OUR WEBSITE IS UNDER CONSTRUCTION:

We are working on some updates, if you encounter issues or need assistance, please email angie@strictlydiscs.com or phone the shop at 608.259.1991.



Ron, Ryan, Angie, Ethan, Evan, Marty, Luke, Justin, Matt, Michael & Ben